More and more, brides are choosing exotic destinations for their I Do's. From sandy beaches to sunny fields, most of these locations call for a wedding shoe other than your standard stiletto. For such ceremonies, we love the idea of a short, non-traditional dress – such as Daphne from Modern Trousseau – and a simple sandal. We stumbled across two such shoes and wanted to share them with you on this Wedding Shoe Wednesday.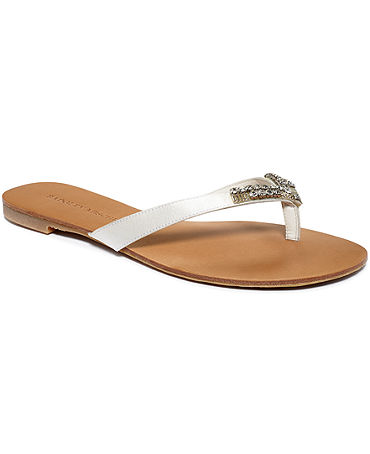 Meet the Alee Evening Thong Sandal by Badgley Mischka. A destination wedding shoe doesn't get much better than a simple silhouette, a touch of rhinestones, and a hint of beading. Of the white, silver, and platino metallic hues, we recommend platino. This color will look stunning as you walk down the aisle of sandy golden beaches. No matter what surface you're walking on, your gait will remain graceful in these flat sandals. Order them today from Macy's.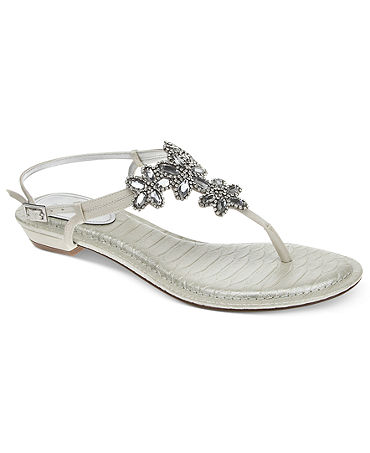 Desire more detail in your wedding day sandal? Then we suggest the Keegan Evening Flat Sandal from Nina Shoes. Floral rhinestone accents in silver, gold, or ivory will add depth to your already gorgeous wedding day look. With a slight heel, these sandals are perfect for an outdoor destination other than the beach, such as a park. Pair with a glitzy pair of Nina earrings available here at Ready or Knot and you're look will be complete!
For all of our brides planning destination weddings, we hope these sandals inspire your wedding day look! And we want to know, what destination have you chosen for your nuptials?