Shop, Drop, and Sample Sale!
We would love to keep all of our beautiful gowns, but it is time to make way for a new selection of gowns! You know what that means…SAMPLE SALE! Few things get brides more excited than the thought of getting a designer gown on sale. Who doesn't love a sale?! If you weren't sold already, bridesmaid dresses and accessories will also be included in this sale.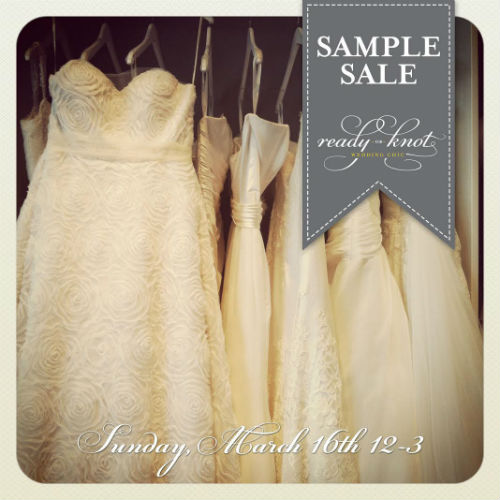 Before attending our sample sale, it is important to know that the process is much different than the regular experience at Ready or Knot. For this reason, we have some tips for our sample sale shoppers. Ready? Here we go!
1.  During our normal appointments the bride and her party have the boutique to herself and it is a relaxed atmosphere.  If you don't like crowds, waiting, or making quick decisions, we recommend setting up a normal appointment.
2.  Experienced shoppers only.  Sample sales are great for brides who have tried on gowns before, know what silhouettes and fabrics look best on them, and can quickly decide if the gown is "the one".
3.  Core Team.  Bring only the 1 or 2 people whose opinion you value the most and can help you make a quick decision.
4.  Only gowns that are part of the sample sale will be available to try on.  If you see something else that isn't a part of the sale that you'd like to try on, we will gladly set up another appointment for you to try it on.
We hope to see you energized and ready to shop on Sunday, March 16th from 12pm-3pm!