For those who are new to the Ready or Knot blog, Pinterest Pick Weeks is when we branch out of our wedding dress/bridesmaid dress/wedding accessory world and comment on all things wedding. We find ideas on Pinterest and share our favorites with all of you, one week at a time.  These picks are for the Midwest brides who are looking for a creative twist.
And this week we give you Save the Dates!
Our Day 2 // Ribbon Save the Dates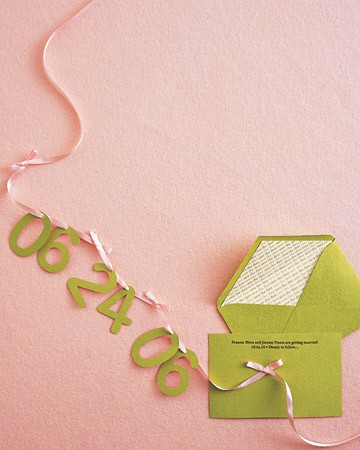 For the DIY brides, this sweet idea lets your wedding information "spill" out of your save the dates.
1.  Cut out the date with numbered punches or stencils (make sure the numbers will fit inside the envelope first!)
2.  Pierce the top of each number with a hole punch.
3.  Slide each number onto a 1/4 inch ribbon, forming your date, tying bows after each pair.
4.  Cut 2 slits into your card and tie your ribbon to it.
5.  Print Who – What – Where – and When on your card (& "Invitation to follow").
—
Find us in Rockbrook Village for help with all your wedding planning ideas!